70 families affected by flooding in Selangor and Pahang received aid such as basic necessities, food supplies and medicine.
The humanitarian initiative brought much-needed relief to distressed families whose homes and livelihoods were severely impacted by the recent flood.
The community service was organized by Boustead Properties together with Angkatan Belia Islam Malaysia (ABIM) and Malaysian Relief Agency (MRA).
In Selangor, the aid efforts saw the team cleaning up and clearing the homes of debris, mud and damaged furniture.
Families in Kampung Labohan Dagang, Banting also received care kits comprising toiletries, diapers, kettle, towel, blankets, face masks, and medicines were also provided to affected.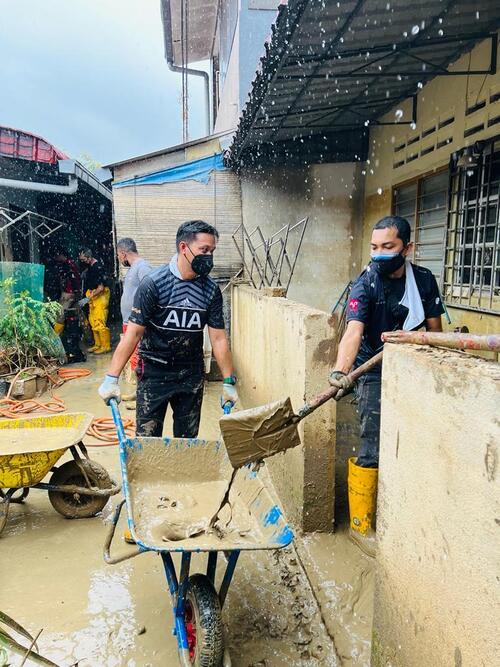 Part of its CSR program 'Boustead Cares' the initiative involved more than 50 employees from its Squad Boustead and took place over several days.
In Mentakab and Lanchang, Pahang, the team donated funds to the families while clearing of several flood-stricken neighborhoods by cleaning up and repairing the roofs of damaged homes.
Generator sets and cleaning materials were also donated with the support of an independent local volunteer.
Boustead Properties Berhad called upon all Malaysians to come together through the Keluarga Malaysia concept in solidarity with the company. …
"We take pride in embracing the core values of 'Keluarga Malaysia' and its aim to cultivate three characteristics, namely inclusivity, common ground, and contentment in this multiracial nation that we call home." Chief Operating Officer Eason Phan said.
Phan added, "Being on the ground gave us a heart-wrenching perspective of the devastation caused by the floods and we hope that through the various relief operations, families can start rebuilding their lives."
He said much more could be done to help the victims in the aftermath of the floods and other CSR plans are underway to ramp up support in the months ahead.
"Our contribution is also further testament to our commitment to environmental, social, and governance (ESG) principles, in keeping with the United Nations Sustainable Development Goals (UNSDG" he added.
---
Source: 70 flood-hit families from Pahang and Selangor receive aid – Citizens Journal Malaysia (cj.my)